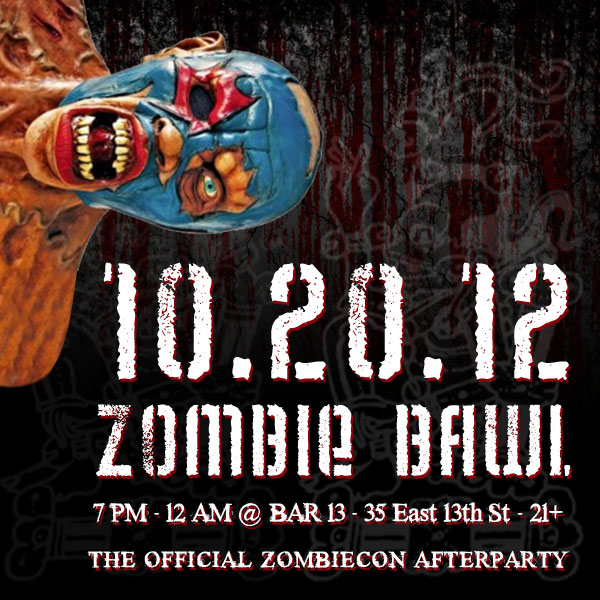 ZOMBIE BAWL: The Official Zombiecon 2012 Afterparty
~ Apocalypto Ultimo ~
(For more on the all-day Zombiecon bar-crawl please see
– http://www.facebook.com/events/408421165878703/ or
– http://www.zombiecon.com/?p=145 )
The Zombies Rise again this coming Saturday, October 20th and, to mark the end of all the Mayan Apocalypse hype, Zombiecon's all-day bar crawl will be a wild one fueled by Tequila and Tacos and ending at the Zombie Bawl afterparty at…
BAR 13
35 East 13th Street
@ University Place
Union Square area, NYC
(2 floors + roofdeck)
Saturday, October 20th
7pm – Midnight+ – BAWL
(Noon to 7pm – bar crawl – more here)
RSVP at: https://www.facebook.com/events/522571747770155/
TICKETS
Preasale: $10 (fee waived!)  BUY NOW: http://kostumekult.com/events/zombiebawl/
Door: $15 Bloody (any costume)
Door: $20 Boring
Cheap Drinks all night!
DJs spin electro. techno and zombified mashups!
– Undead DJs
– DJ Cindy Kim
– Boris Burning Elf
FEATURING
Mexican Wrestling
Zombie Go-Gos
Brain Feasting
Body Shots
WIN!
Zombie Costume Competitions for tickets to Killers: A Nightmare Haunted House and a most creepy Frankenstein Fleshlight!