Need more zombie-related stuff to do this week to prepare for the Saturday Zombie Invasion??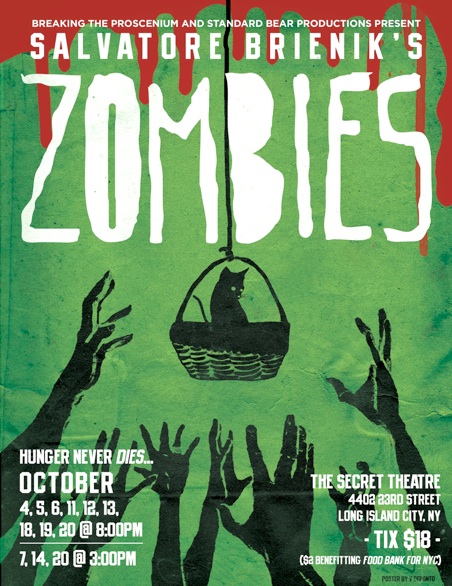 We just heard about this and it sounds pretty cool:
Breaking the Proscenium and Standard Bear Productions, in association with The Secret Theater, present the survival horror comedy play that reminds us hunger never dies…
Salvatore Brienik's ZOMBIES
Twelve Performances only: October 4th thru October 20th, at the Secret Theatre (44-02 23rd Street, Long Island City, NY)

In this survival horror "zomedy", five strangers and one feline take refuge on the second floor of a stairs-less house in the outskirts of the greater Washington DC area. As radio broadcasts clue them in to what is happening in the world at large, they find themselves struggling with the biggest question faced by the survivors of any global pandemic: now what?… Performances of Salvatore Brienik's ZOMBIES run October 4th-20th at the Secret Theatre (44-02 23rd Street, Long Island City, NY). Performances run Thursday, Friday and Saturday evenings at 8pm, with three matinees on Oct. 7th, 14th and 20th at 3pm. All tickets are $18.00. Tickets may be purchased online at www.secretheatre.com or by calling Ovation Tix customer service toll-free at 866-811-4111.