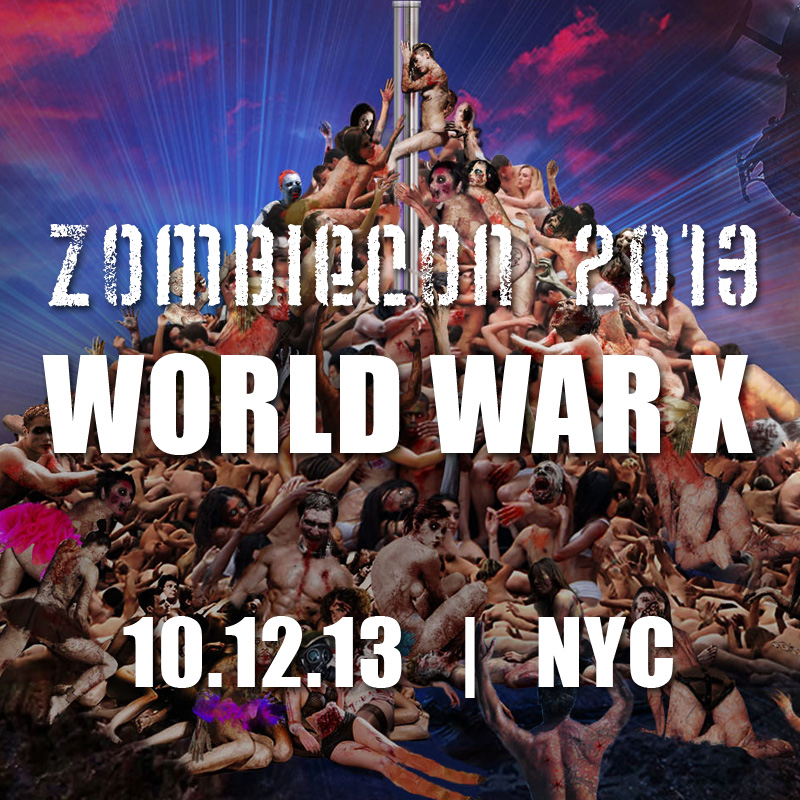 TOMORROW! Saturday October 12th from Noon til Nite, ZOMBIES TAKE MANHATTAN!
ROUTE:
11:30-1:30pm: Begin at: Scallywags! 508 9th Ave at 38th street, Manhattan for Cheap Drinks and Breakfast Braiiiins.
1:45pm: Comic Con attack at Javits Center
After: Bar & Landmark Crawling… Stumbling, Dancing, Gurgling…
5pm: Zombie Bawl afterparty at Times Scare (669 8th Ave at 42nd street)… $10 donation from 5pm-630 and can stay all night when the Comic-Con After-party begins — ($25 at door starting at 7pm) — DJ Orange Krush (Amanda Wotton) rocks the zombies
5-7pm and after, stay for the METAVERSE COMIC CON AFTERPARTY!
RSVP:
– EVENT: facebook.com/events/247871065361271
– GROUP: facebook.com/ZOMBIECON
– Email list & info: zombiecon.com
– Follow all day long on Twitter: @zombieconnyc
THIS YEAR'S THEME:
Zombie characters from any zombie flick, show or comic – with a sleazy, bleedy, edge… Main characters or those cameo'd and quickly killed… You cannot have an easier theme… Special spaztastic public activities designed for hilarity, hotness and horrification. And Drinking…
BRING: Comfortable walking shoes, Metrocard and extra zombie makeup/blood to share and zombify others as we go… Zombies are infectious!…
ZOMBIFICATIONS at start location by Kirkworx Dupuis and others!
PARTICIPATE or beware. Looky-loo tag alongs are subject to explosive zombie barf.
ABOUT:  This is Zombiecon #9 developed by a creative community that has crazy costumey fun year-around. We have bloodied the Wall Street Bull, attacked Fox News and brought much irony to many public places… (We are more than a bar crawl!) For more check zombiecon.com and kostumekult.com