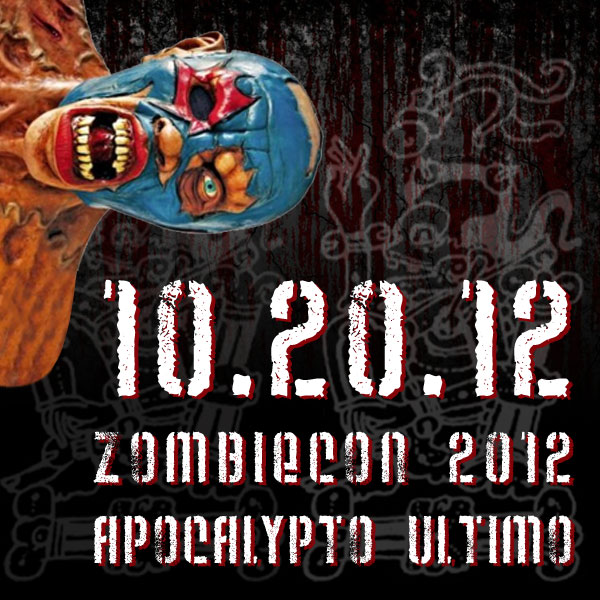 ZOMBIECON NYC 2012
¡APOCALYPTO ULTIMO! (THE LAST APOCALYPSE)
The clock ticks and the ancient gods stir. The Mayan calendar winds down and the end is near… Again!… In honor of the Mayan apocalypse hype soon coming to an end, this will be a bar crawl with much tequila, tacos and swarthy Mayan warrior braiiiiiiiiins… Come in any undead, blood-, brain- and booze-thirsty form. All central american references encouraged.
LAUNCH POINT:  (NOON to 2PM)
IGUANA @ 240 West 54th Street – Enter on 54th Street and go to lower level !
(Betw Broadway & 8th Ave. – a short walk from many subways!)
$5 beers, $5 Bloody Margaritas & Bloody Marias, $7 top shelf tequila shots
Come early for a $10 Special Undead Mexican Brunch Menu
And ZOMBIFICATION STATIONS
Be there before 2pm or miss the best part of the route!
THE ROUTE:
Manhattan locations with route info being provided as we go while updating Facebook, Twitter and Texts (with our accuracy diminishing as the day progresses). Links below!
FINAL LOCATION: ZOMBIE BAWL Zombiecon Afterparty (7PM – 12AM+)
BAR 13 @ 35 East 13th St at University Place – Enter on University!
(Just below Union Square Park – near the L, 4/5/6, N/R/Q at Union Square)
RSVP/ More info here: http://www.facebook.com/events/522571747770155
$10 PRESALE TICKETS at: http://kostumekult.com/events/zombiebawl/
At the door: $15 Bloody (or any costume) / $20 Boring!
CHEAP DRINK SPECIALS ALL NIGHT…  TEQUILA!!
DJs spinning electro, house and undead mashups in two rooms + a roofdeck including
UNDEAD DJs, DJ CINDY KIM and BORIS BURNING ELF!!!
RSVP at: http://www.facebook.com/events/408421165878703/
BRING… Your ID, Metrocard, comfortable shoes, weather appropriate clothes and zombie supplies.
WARNING: We have an amazing route this year and we need the help of all Zombies to RESPECT each venue, all NYC landmarks, the police and kids.  Our ability to continue inflicting this type of insanity on NYC requires your assistance.
Follow the trail of blood (and locations) at:
TWITTER
: 
@zombieconnyc
TEXT MESSAGES: http://broadtexter.com/zombiecon
FACEBOOK: https://www.facebook.com/pages/ZOMBIECON/85431995453