On Saturday, October 16th, in downtown NYC, the undead converge for an evening of dancing, demented performances, gurgled word and open mike.  Featuring bloody burlesque, creative drink & food specials and some of the most bizarre shit you will ever see.  Enter the ring of dismemberment at your own peril.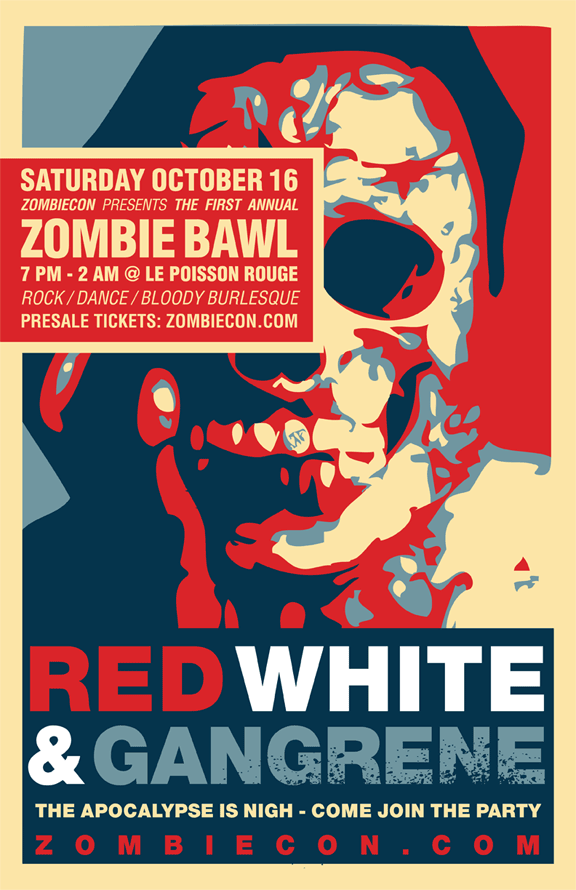 The after-party for an all day bar crawl and absurdist street protest, come as a zombie preacher, pandering politician or conscious-less media exec. Unplug grandmother, bloody your teabag and let loose the terror babies…  Or just cover yourself in blood and drink profusely.
Zombiecon daytime crawl –
2pm-7pm with more info on Facebook
Zombie Bawl
7pm til the last body falls (7-2am+)
Le Poisson Rouge
158 Bleeker Street, between Thompson & Sullivan
$10 Presale
$15 Zombie at the door / $20 Humans at the door
Drink & food specials all night
21+
NYC's largest zombie crawl takes Manhattan once again for an all day zombie rampage beginning at 2pm (make sure to RSVP for the secret starting location) and landing at Le Poisson Rouge at 7PM-ish for a night of dinner, dancing, bizarre behavior and braaaiiiinnnssss.
Penthouse Pet RYAN KEELY [www.RyanKeely.com] will treat us to a brand new horrifying sexy zombie burlesque performance!
Mindtripping horror visuals by DY3KT [www.dy3kt.com] and !NCLUDE [www.warperparty.com]
A special performance of THRILLER by THRILL THE WORLD
DJ's spinning electrohouse, funk and rock including BORIS BLEEDING ELF and TIM THE ENCHANTER (as Jersey Shore Zombie Pauly D)
Get your Zombie Mugshot taken by Logan Grendel [www.infiniteideaimages.com]
MORE ACTS ANNOUNCED SOON! DOWNLOAD THE POSTER [PDF] / SPREAD THE WORD!