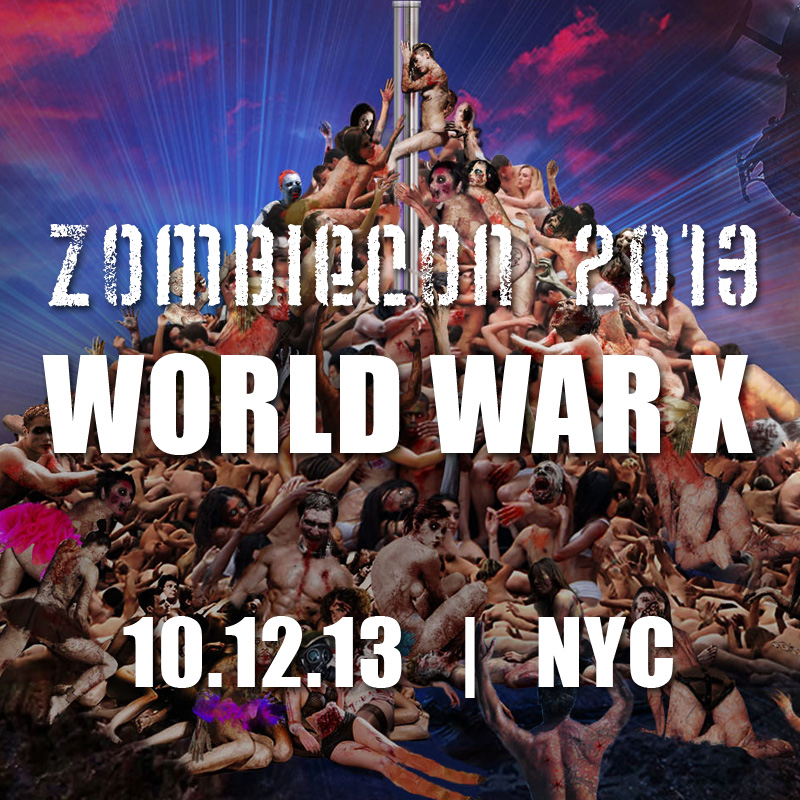 ZOMBIECON NYC 2013: ~ World War X ~
A scary, silly, slightly x-rated, shockathon rampage.Zombie lore is growing like never before… Brad Pitt is investing, TV networks are thriving and Undead Chic is all-the-rage … And somewhere along the way, all this slippery, scabby, brain-sucky fun got kinda sexy. Or, at least it will be on…
Saturday October 12th
Noon til Nite
Manhattan Route TBA soon
FREE early with donation requested at 5pm dance party location.
RSVP at
– FB: www.facebook.com/events/247871065361271
– Email list & info: www.zombiecon.com
– Follow on Twitter: twitter.com/zombieconnyc
THEME
Zombie characters from any zombie flick, show or comic – with a sleazy, bleedy, edge… Main characters or those cameo'd and quickly killed… You cannot have an easier theme… Special spaztastic public activities designed for hilarity, hotness and horrification. And Drinking…
ROUTE
Manhattan with plans to flow through a certain comicy convention en route to the super special Zombie dance-party after 5. Noon Launch spot TBA the week of 10/7. Be there by 1pm for maximum fun or RSVP for updates throughout the day.
ABOUT
This is Zombiecon #9 developed by a creative community that has crazy costumey fun year-around. We have bloodied the Wall Street Bull, attacked Fox News and brought much irony to many public places… (We are more than a bar crawl!) For more check zombiecon.com and kostumekult.com