We have a special surprise to announce to all you zombies!! ZOMBIECON NYC is partnering with ZOMBIES CAN'T LOVE to present the ultimate Zombie Prom featuring the one and only world-famous GWAR!!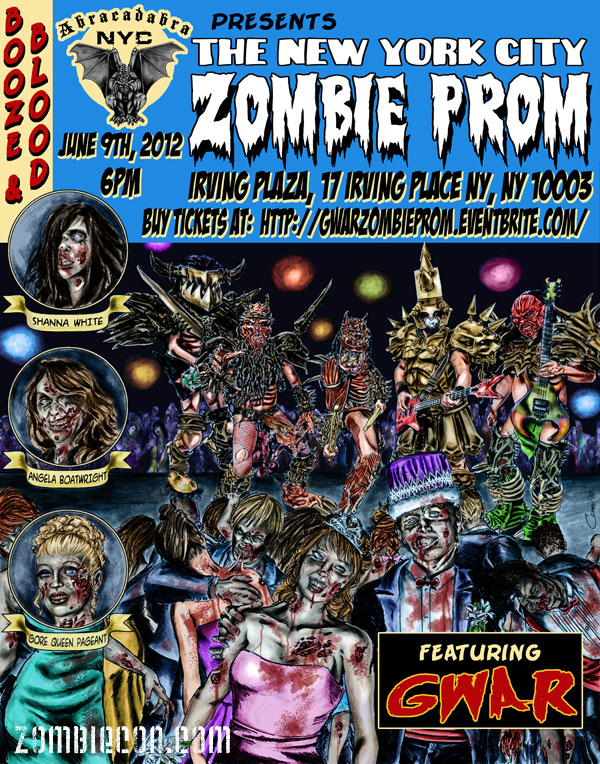 BLOOD, BOOZE AND GWAR!!
This is a zombie event like no other!! Irving Plaza will be full of the undead!!
USE ZOMBIECON'S PROMO CODE "EATBRAINS" TO GET $20 OFF YOUR TICKETS AT:
http://gwarzombieprom.eventbrite.com/
DJ Angela Boatright and DJ Shanna will kick off this evening of the undead.
Professional makeup artists from NYC's premiere costume shop ABRACADABRA NYC will be on hand to help you get your gore on.
Take your official prom photo. Receive your official prom pin.
The Zombie King and Zombie Queen of the prom will receive special prizes.
Charlie Adlard, penciler and inker of THE WALKING DEAD comic books, has donated an original drawing of a full page from the comic! There will be a raffle and one lucky winner will walk away with a piece of original zombie history!
Dress to kill for the Pageant of the Undead – Zombies don't do beauty pageants…they do gore pageants!
There will be a crowning of the Zombie King and Zombie Queen of the prom. Yes, there are serious prizes!
The grand finale? A very special performance by the sickest band in metal history…Hark to the hideous majesty of your MASTERS, rulers of Earth, the MIGHTY GWAR will take the stage.
There will be drink specials all night!!  $21 for a four-pack of beer, special Zombie Punch, add a shot of whiskey to any beer for $5, plus shot specials.
ABRACADABRA NYC will be offering 15% off on all merchandise and makeup to ticket holders and 25% off on all zombie costume rentals or zombification process. Non- ticket holders can still stop by the store and receive 10% off just by mentioning the event.
THIS ISN'T JUST ANOTHER ZOMBIE PROM! THIS IS THE ZOMBIE PROM TO RULE THEM ALL!!
There will be zombies all night!! Pass this Event page along…
Tickets are limited and will sell out fast. Proceeds from this raffle will go to The Smoot Family Fund. This event is 21+.